In 2015, I decided to officially come out of the cannabis closet and support the Canadian Cannabis Culture, by adding my voice to the growing number of Canadians who were and are open advocates for the "freeing of a herb".
Admittedly, I'm a little late coming out green, but that doesn't mean that I haven't been a huge supporter of the lifestyle for decades. I just never felt like I could safely and openly speak about it without being persecuted and charged like a felon.
In Canada it is still illegal to possess cannabis, use cannabis, grow cannabis from seed and even share information in the form of ANY printed material related to any aspect of this special life-saving plant. If you have an official medical marijuana license issued by the government, than there is some legitimacy and protection of sorts, but really, if we call a spade a spade it's still a huge erosion of civil liberties at best.
This 420 event, which was just held on April 20th, 2017, will be one of the last acts of civil disobedience and peaceful demonstrations that will be held at Toronto's Younge and Dundas Square. Next year, the event which has been enjoyed in the same location for 19 years, will be moving to a new location because the city is concerned about the space being too small to safely accommodate the number of event supporters.
Without further ado, let me take you into the heart of the great city of Toronto, Ontario Canada to 420 Toronto!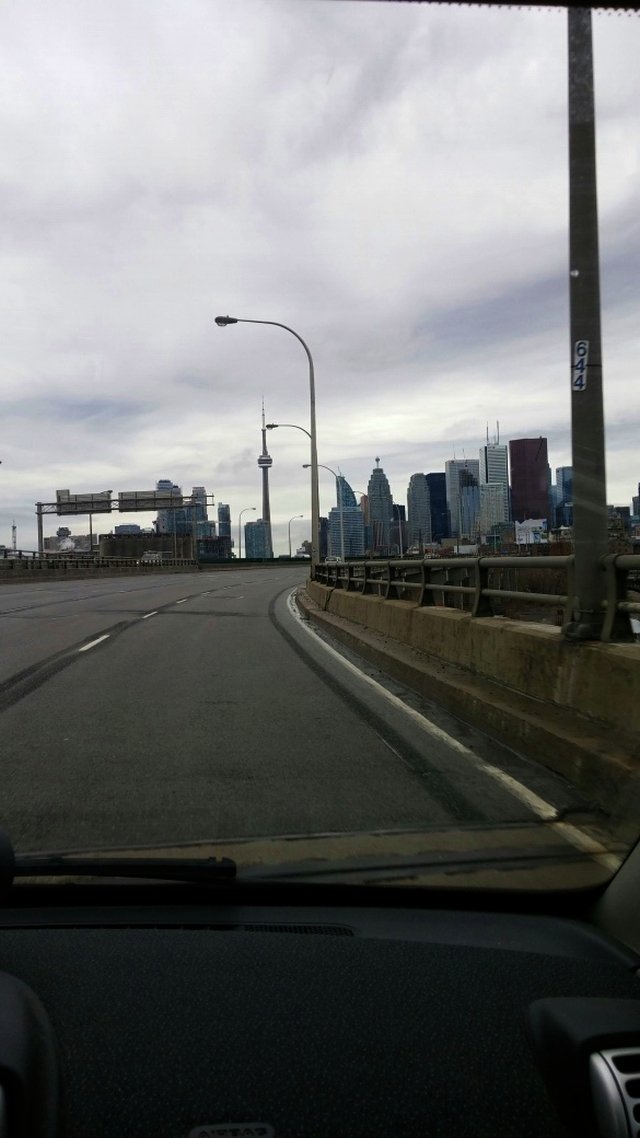 The day was rainy and cold. We knew we were going to get wet and we had dressed to be in the elements for several hours. (Long-johns under jeans, wool socks, boots, sweaters, jackets and rain coats and for myself, winter gloves.)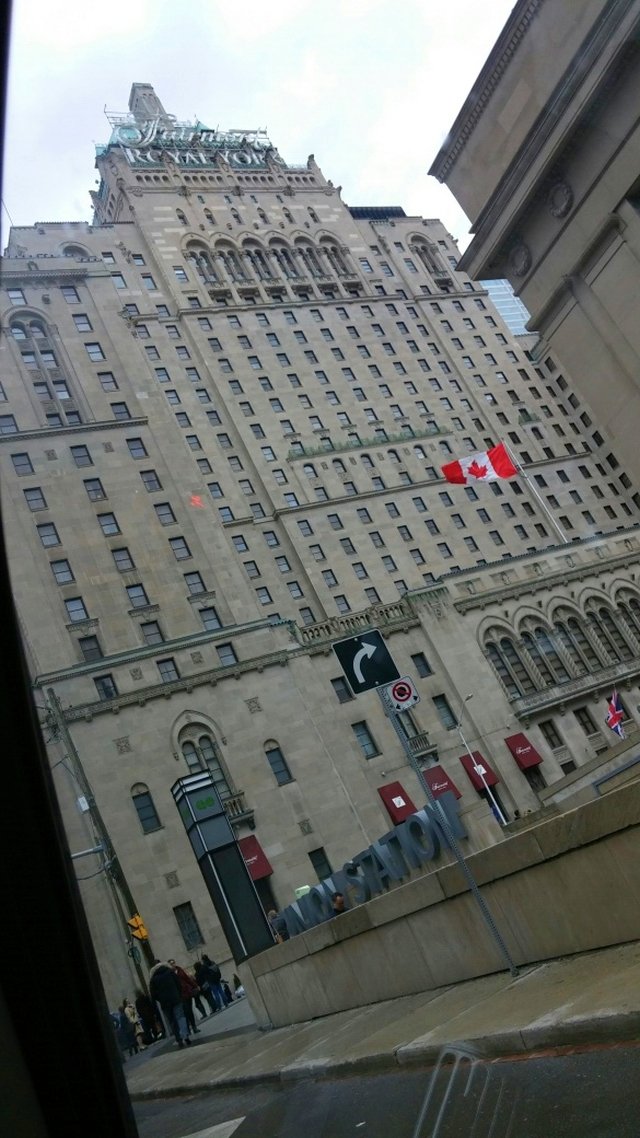 The square that we spent the afternoon in, is just a few blocks away from this historic hotel, called the Royal York.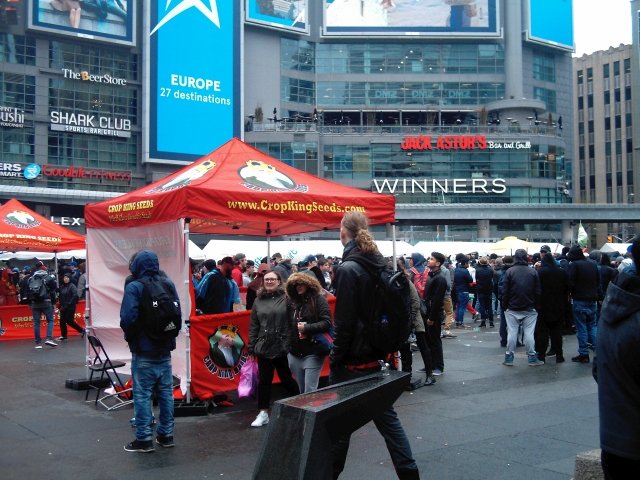 We arrived at the event shortly after 1:00 pm, thinking that we wouldn't have much of a problem getting to chat with vendors and listening to the speakers. It was already becoming packed 3 hours before the celebration was really going to kick off.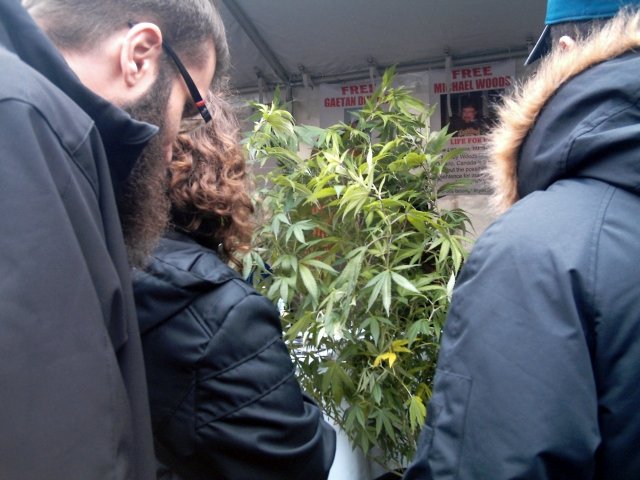 This is a cannabis plant that Justin Loizos, the owner of Just Compassion and a Canadian Cannabis Activist, representing The Cannabis Rights Coalition had on display.  Just Compassion is a private members medical cannabis club that helps medical cannabis patients who have any one of the following government issued medical marijuana licenses: MMAR, MMPR, and ACMPR.
Justin is a well respected Canadian Cannabis Activist in the province of Ontario and he directly and indirectly helps thousands of individuals muddle their way through accessing the plant and using it as medicine. We really wanted to hear him speak and I am happy to report that we were able to do that and meet him in person too.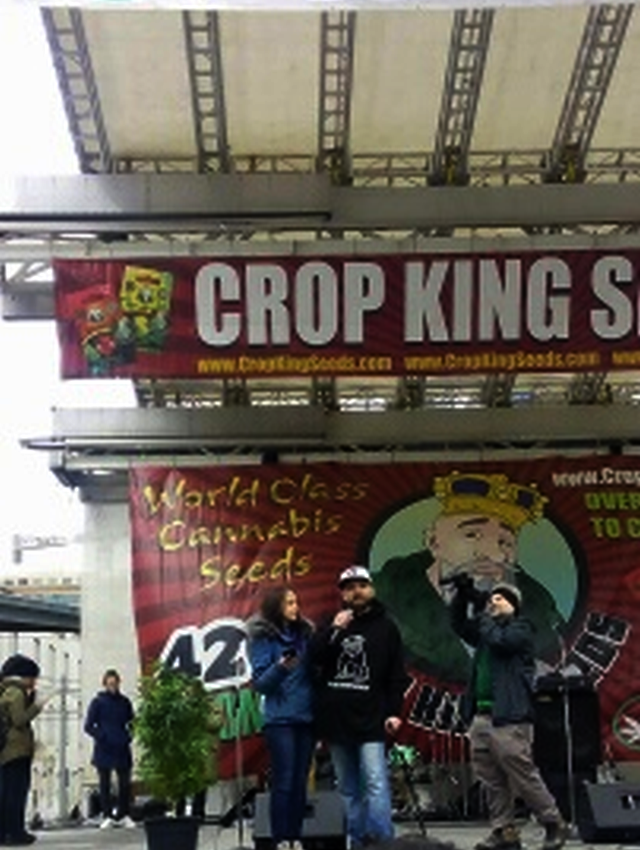 (Photo credit goes to Paul H.)
This is Justin speaking with his girlfriend Meghan Jefferies at his side. Justin has used cannabis to treat Multiple Sclerosis, which he is afflicted by. This is one thing that we have in common and is also one of the reasons that it was important to me to be in the crowd, on the day to support him.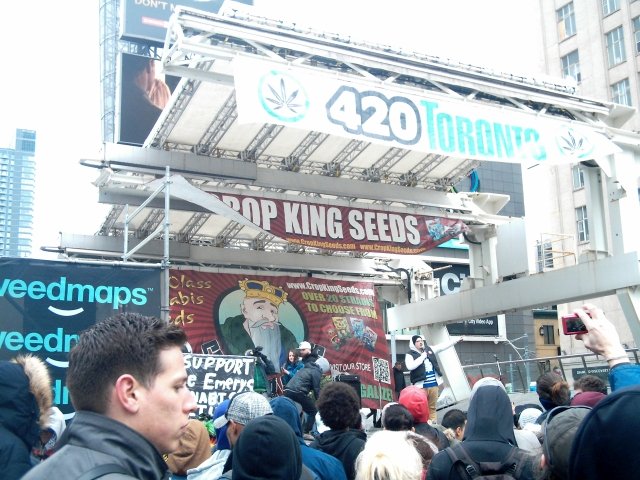 (Justin and Meghan making their way off the stage.)
As the afternoon wore on, it became harder and harder to move within the crowd of people.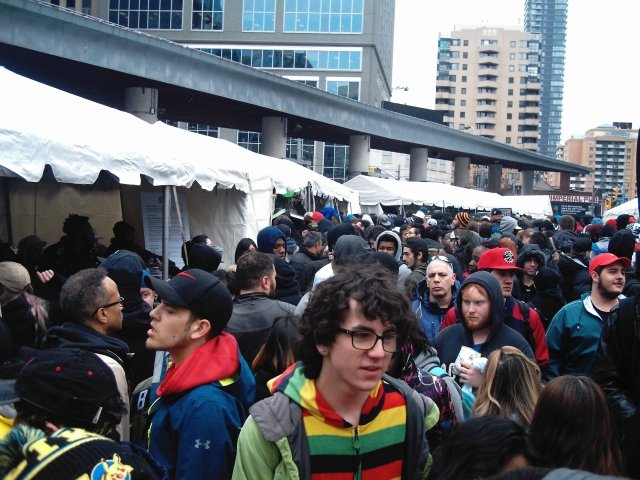 The vendors are all located underneath the white canopies. It was difficult to get close to them, even shortly after we arrived. With that said, here is some of the promotional swag we were graciously given: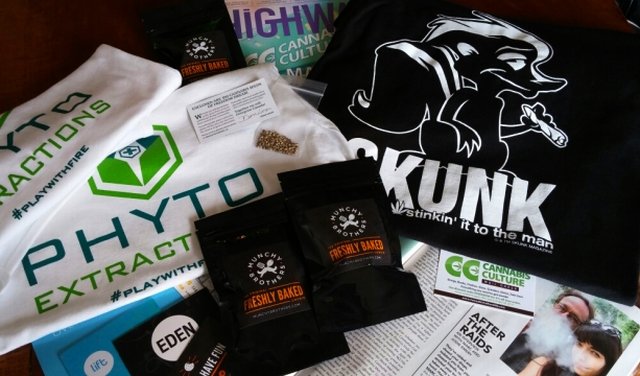 3 t-shirts, some medicated edible cookie dough that require baking, CBD seeds and lots of literature to read.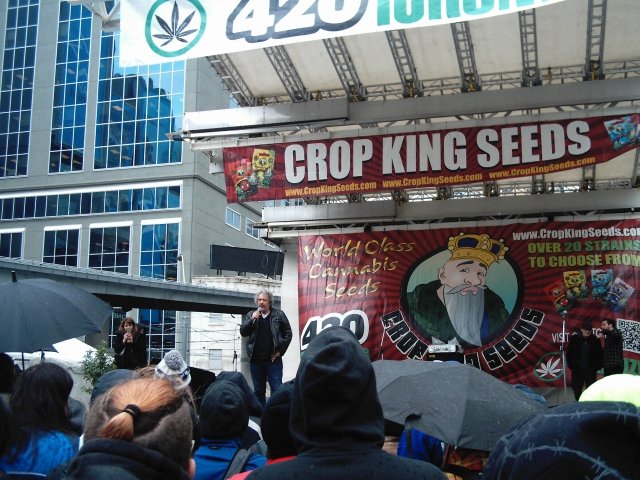 This is John Vergados speaking. He is Editor-in-Chief of the Highway Canada/Skunk magazine and a vendor in attendance at the event.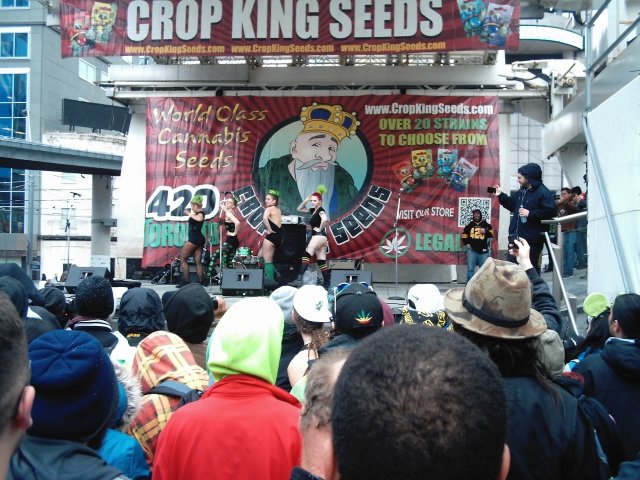 There was dancing, by a troop called the Goddess Factory Twerk Squad.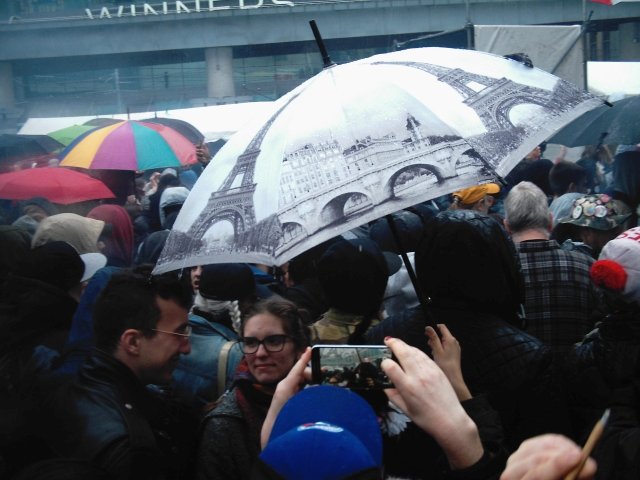 Then, the rain came as we waited for Marc Emery, the Prince of Pot, to speak just before 4:20 pm.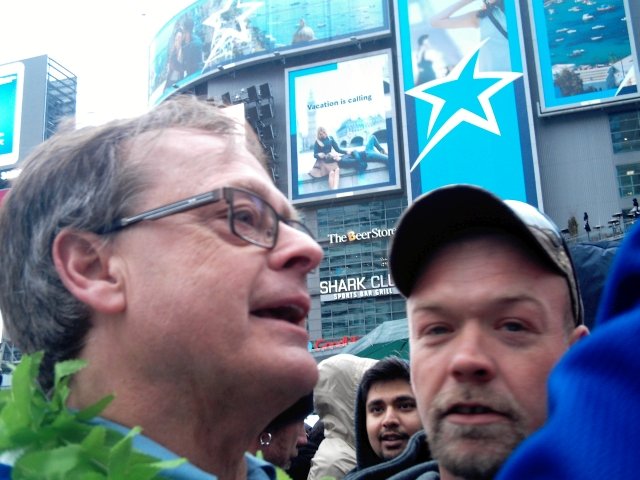 Marc said hello to us and I was able to thank him for everything he is doing for the Canadian cannabis movement.
He shared that 420, as a global movement really got started when his team at Cannabis Culture Magazine decided to start the first event in Vancouver, British Columbia Canada 23 years ago. Last year, Marc said he was able to celebrate 420 in India.
Back-track to 2010, Marc was extradited by the Canadian government to the United States, where he was tried for selling cannabis seeds via mail order, into the States. He served 5 years, in multiple US prisons, FOR SELLING CANNABIS SEEDS. He was not protected or helped by our Canadian government. It was my opinion that they, just like now, are targeting him and his wife Jodie. Our government seems to be quite content to throw them under the bus to attempt to make an example out of both of them…even though cannabis related criminal charges are currently being thrown out of our judicial system which means no charges that were laid are sticking.
Marc is currently facing more than a dozen charges, after a targeted raid on a chain of dispensaries that he owns was carried out across the country in March, of this year.  The most ominous charge being "conspiracy to commit an indictable offense". Everyone understands that there are no victims of the crimes he is being charged with and it is a complete waste of time and tax payer dollars which could total over a million dollars by the time everything is said and done.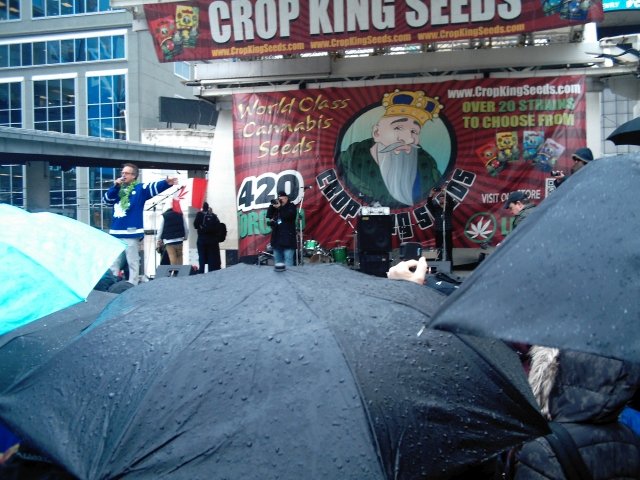 Marc Emery, taking the stage and speaking for approximately 15 minutes just before 4:20 pm.
(This video was uploaded to Youtube on April 20th, 2017 by John RoXx.)
(Then, this video taken by @knarly327, was uploaded to Youtube on April 22, 2017 on his Scrap Fe channel.)
It's the actual count down to 4:20 pm.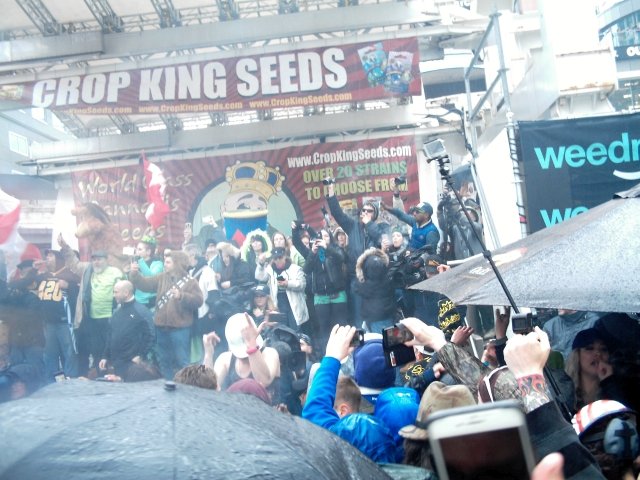 The Younge and Dundas Square became instantly covered in a thick cannabis haze.
Here's what Vancouver's 420 event looked like:
(This video was uploaded to YouTube by Mark Klokeid on Apr. 20th, 2017.)
Here's what Ottawa's 420 event looked like:
(This video was uploaded to YouTube by Pat GPM on Apr. 20th, 2017)
Every major city across Canada had scheduled 420 events each with keynote speakers.
I consider myself to be privileged to be able to attend a rally and a protest in my country without being arrested for doing so.
Rebecca Ryan